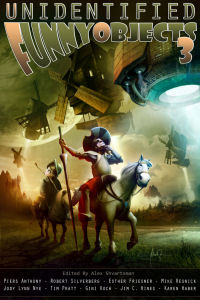 Ya conocemos los relatos que se incluirán en Unidentified Funny Objects 3, la antología humorística editada por Alex Shvartsman que saldrá en octubre de este año. Si queréis saber qué me parecieron las dos entregas anteriores, tenéis las reseñas en estos enlaces (UFO1 y UFO 2)
Son los siguientes:
"On the Efficacy of Supervillain Battles in Eliciting Therapeutic Breakthroughs" de Jim C. Hines
"The Right Answer " de James Miller
"The Gefilte Fish Girl " de Mike Resnick
"Master of Business Apocalypse " de Jakob Drud
"Carla at the Off-Planet Tax Return Helpline " de Caroline M. Yoachim
"Why I Bought Satan Two Cokes on the Day I Graduated High School " de Nathaniel Lee
"Company Store " de Robert Silverberg
"The Door-to-Door Salesthing from Planet X " de Josh Vogt
"Picture Perfect " de Matt Mikalatos
"The Discounted Seniors " de James Beamon
"That Must Be Them Now " de Karen Haber
"Notes to My Past and/or Alternate Selves " de Sarah Pinsker
"The Real and the Really Real " de Tim Pratt
"An Insatiable Craving " de Camille Griep
"Live at the Scene " de Gini Koch
"The Newsboy's Last Stand " de Krystal Claxton
"The Full Lazende " de Jeremy Butler
"Do Not Remove this Tag " de Piers Anthony
"Super-Bade-Mom Group Saves the Day! " de Tina Connolly
"The Choochoomorphosis " de Oliver Buckram
"The Fate Worse than Death " de Kevin J. Anderson & Guy Anthony De Marco
"Elections at Villa Encantada " de Cat Rambo
"Infinite Drive" de Jody Lynn Nye
Si te interesa el humor en la ciencia ficción y  la fantasía, te aconsejo que consultes las últimas entradas de este blog y de El fantascopio con el especial de humor que hemos publicado.