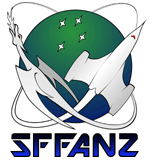 En mi afán de que no se me escape ningún premio, aquí os traigo los finalistas de los premios Sir Julius Vogel, los Hugo neozelandeses.
Premios profesionales

Mejor novela

Innocents de Sarah Fayermann (FeedARead.com Publishing)
Den of Wolves de Juliet Marillier (Pan MacMillan Australia)
Into the Mist de Lee Murray (Cohesion Press)
Daybreak Rising (Embers of Redemption, vol 1) de Kiran Oliver (CreateSpace Independent Publishing)
Night's Fall de Richard Parry (Mondegreen)
Mejor novela juvenil

Stranded Starship (You Say Which Way) de Kevin Berry (Fairytale Factory)
The Ghosts of Moonlight Creek de Sue Copsey (CreateSpace Independent Publishing)
Battlesaurus: Clash of Empires de Brian Falkner (MacMillan)
Light in My Dark de Jean Gilbert y William Dresden (Rogue House Publishing)
Mejor novella / novelette
The Convergence of Fairy Tales de Octavia Cade (Book Smugglers)
Babylon's Song  de Woelf Dietrich, published in Interspecies (Kosa Press)
The Sleeper's Dance – A Novella  de Mouse Diver-Dudfield (Pouakai Books)
Spindle de Dan Rabarts, publicado en Andromeda Spaceways Inflight Magazine issue 63
Tipuna Tapu de Dan Rabarts (Clan Destine Press)
Mejor relato

"Narco" de Michelle Child, publicado en At the Edge (Paper Road Press)
"Splintr" de A.J. Fitzwater, publicado en At the Edge (Paper Road Press)
"Wakers" de Sean Monaghan, publicado en Asimov's Science Fiction, August 2016
"Call of the Sea" de Eileen Mueller, publicado en At the Edge (Paper Road Press)
"BlindSight" de A.J. Ponder, publicado en At the Edge (Paper Road Press)
"London's Crawling" de Emma Pullar, publicado en Dark Minds Charity Collection (Bloodhound Books)
Mejor colección

At the Edge, editado por Dan Rabarts y Lee Murray (Paper Road Press)
Everything is Fine, Grant Stone (Racket House)
Mejor artista profesional

Portada de Write Off Line 2016: Everyone's a Winner de Kodi Murray (Rogue House Publishing)
Portada de Beyond the Stars de Kodi Murray (Tauranga Writers Publishing)
Portada de Chameleon Moon, de Laya Rose
Midnight Star, Laya Rose
Portada de That Kind of Planet, Emma Weakley (Random Static)
Portada de At the Edge, Emma Weakley (Paper Road Press)
Mejor publicación profesional

That Kind of Planet, Emma Weakley (Random Static)
Mejor representación dramática

This Papier Mache Boulder is Actually Really Heavy, Andrew Beszant y Christian Nicholson (Little Hero Productions)
Chronesthesia, dirigido por Hayden J. Weal, colaborador Simeon Duncombe
AFK: the webseries, episode 12, "ZERG", dirigido por Peter Haynes (Epically Casual Productions)
Premios aficionados

Mejor publicación aficionada

Novazine, editado por  Jacqui Smith
Phoenixine, editado por John and Lynelle Howell
Summer Star Trek: Mirror, Mirror, Enterprise Entertainment
Mejor escritor aficionado

Alex Lindsay for SITREP, publicado en Phoenxine
Jacqui Smith, por contribuciones a Novazine
Octavia Cade, por la serie Food and Horror Column  (Book Smugglers)
Mejor artista aficionado

Keith Smith, Contributions to Novazine
Premios especiales

Mejor nuevo talento

Eileen Mueller
Richard Parry
Laya Rose
Darian Smith
Servicios a la ciencia ficción, fantasía y terror

Servicios al fandom

Jan Butterworth
Lynelle Howell
¡Enhorabuena a los nominados!