Se han anunciado los finalistas de los premios Spectrum, que premian obras artísticas fantásticas. En el enlace podéis ver todas las imágenes, que son realmente espectaculares.
Publicidad
"The Blessing of Athena" de Nico Delort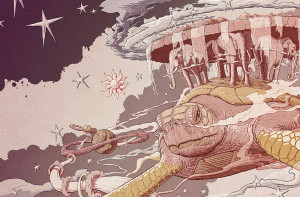 "Discworld" de Bartosz Kosowski
"Vishnu's Third Avatar" de Colin Poole
"Glitch" de Andrew Thompson
"24 Hour Movie Marathon" de Joseph Qiu
Libro
"Munchasaurus Rex" de Chris Ayers
"Tom, Thom" de Rovina Cai
"Renard and the Strawberries" de Annie Stegg Gerard

"Vesurius" de Donato Giancola
"Sorcerer of the Wildeeps" de Karla Ortiz
Cómics
Tribes of Kai, página 41, Daren Bader
Island #4 portada, Gael Bertrand
Harrow County #1 portada, Tyler Crook
Drifter, Nic Klein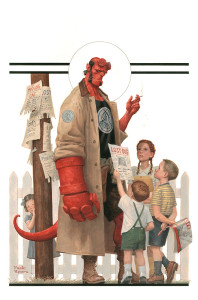 Hellboy 1953, Paolo Rivera
Arte conceptual
"The Mushroom Forest" de Mirko Failoni
"Journey to West" de Te Hu
"King Louie's Court" de Vance Kovacs
"Window View" de Seth Rutledge
"Dragon Island" de Dejian Wu
Dimensional
"Death Wings" de Akihito
"Adelpha and Her Sister" de Thomas Kuebler
"The Blind Death" de Patrick Masson
"The Morrigan" de Forest Rogers
"Meeting Master Jones" de Dug Stanat
Editorial
"Empathy" de Donato Giancola
"Traveling To a Distant Day" de Tran Nguyen
"Finnegan's Field" de Greg Ruth
"Family Portraithausen: A Tribute to Ray Harryhausen" de Chris Seaman
"The Language of Knives" de Sam Weber
Institucional
"Behind the Veil" de Julie Bell
"Natural Connection" de Wesley Burt
"Medieval Batman" de Bill Carman
"Offering" de Te Hu
"Exalted Angel" de Tyler Jacobson
No publicado
"Pull" de Dragan Bibin
"Dust Devil" de Wayne Haag
"King Under the Mountain" de Jaemin Kim
"Initiate" de Greg Opalinski
"Bioluminescence" de Rob Rey
¡Enhorabuena a los finalistas!