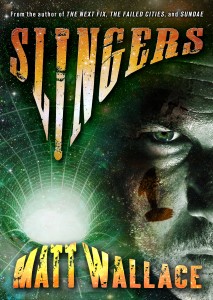 Durante el día de hoy se puede descargar de forma gratuita el libro «Slingers» del autor Matt Wallace. Aquí os pongo la sinopsis :
Meet Nico. He's currently falling 30,000 feet above the city of Hanoi to his death while the entire world watches.

And they can't wait to see him hit the ground.

Welcome to Sling City, an arena in space where Judokas, sumo wrestlers, football stars, and stick fighters compete in the global combat sport of the future. Sling City is more than a stadium, it's an entire microcosmic world filled with its own cultures, traditions, wars, and secrets. Some of those secrets are about to get out, and while all eyes watch the action-packed struggle of The Games take place, the men and women who compete in those games will have to unravel a disturbing mystery that's cropped up at the heart of the home where they live, work, play… and die.

SLINGERS is the beginning of an exciting new five-part ebook series from the author of THE FAILED CITIES and SUNDAE.