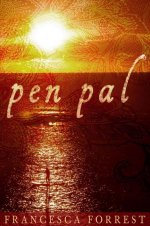 Solo durante el día de hoy estará disponible para su descarga gratuita «Pen Pal» de Francesca Forrester. Aquí os dejo la sinopsis:
Pen Pal starts with a message in a bottle and ends with revolution.

Em, a child from a floating community off the Gulf Coast, drops a message into the sea. It ends up in the hands of Kaya, an activist on the other side of the world, imprisoned above the molten lava of the Ruby Lake. Em and Kaya are both living precarious lives, at the mercy of societal, natural, and perhaps supernatural forces beyond their control. Kaya's letters inspire Em, and Em's comfort Kaya—but soon their correspondence becomes more than personal. Individual lives, communities, and the fate of an entire nation will be changed by this exchange of letters.

Pen Pal is a story of friendship and bravery across age, distance, and culture, at the intersection of the natural and supernatural world.