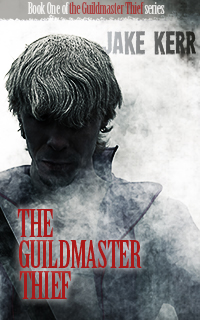 Se puedes descargar de forma gratuita el libro The guildmaster thief de Jake Kerr.
Aquí tenéis la sinopsis:
Overnight, Ralan went from street rat to guildmaster. It was not an improvement.

Ralan Miller loves being the younger brother of the most powerful man in Ness. He can goof around, insult the other guilds, and not worry about consequences. That is until he makes a small mistake that puts his brother's political maneuverings at risk. His patience at an end, Ralan's brother inflicts upon him the worst possible punishment.

Humiliated and hurt, Ralan looks to get back at his brother with one last bit of mischief. What he doesn't realize is that this last act of defiance will have major repercussions, changing the entire political landscape of the city and putting Ralan's own life at risk.

The first book in a fun and exciting new series by Nebula-nominated author Jake Kerr. The Guildmaster Thief is the story of Ralan, a street rat who rises to become the guildmaster of Ness' underworld. As the series progresses, readers will delight in Kerr's rich mix of political intrigue, swashbuckling adventure, secret societies, and heroic feats.