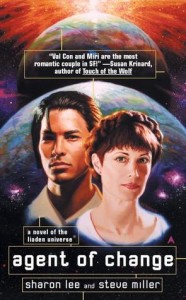 Se encuentra disponible para su descarga gratuita la space opera «Agent of change» de Sharon Lee y Steve Miller.
Aquí os dejo la sinopsis:
Once a brilliant First-in Scout, Val Con yos'Phelium was «recruited» by the mysterious Liaden Department of Interior and brainwashed into an Agent of Change—a ruthless covert operative who kills without remorse.

Fleeing the scene of his latest murderous mission, he finds himself saving the life of ex-mercenary Miri Robertson, a tough Terran on the run from a team of interplanetary assassins. Thrown together by circumstances, Val Con and Miri struggle to elude their enemies and stay alive without slaying each other—or surrendering to the unexpected passion that flares between them.