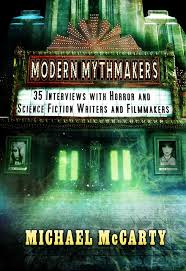 Está disponible para su descarga gratuita el libro Modern Mythmakers : 35 interviews with Horror & Science Fiction Writers and Filmmakers.
Aquí tenéis la descripción:
Ever wanted to hang out with legends like Ray Bradbury, Richard Matheson, and Dean Koontz? This is your chance to hear fun anecdotes and career advice from a wide range of Horror, Science Fiction, and Fantasy authors and filmmakers.

Modern Mythmakers is a collection of 35 interviews from horror and science fiction's most influential writers and filmmakers, including Ray Bradbury, Dean Koontz, Richard Matheson, John Carpenter, John Saul, Joe McKinney, the Night of the Living Dead crew (including John Russo, Kyra Schon and Russ Streiner), Elvira, Whitley Strieber, Christopher Moore, and many more.

Just look at this line-up: Foreword by Alan Dean Foster; Forrest J. Ackerman; C. Dean Andersson; Adrienne Barbeau; Ray Bradbury; Ramsey Campbell; John Carpenter; Dan Curtis; Elvira; Rusty Fischer; Neil Gaiman; Mick Garris; Laurell K. Hamilton; George Clayton Johnson; Jack Ketchum; Dean Koontz; Herschell Gordon Lewis; Thomas Ligotti; Bentley Little; Graham Masterton; Richard Matheson; Joe McKinney; Christopher Moore; Night of the Living Dead Crew: John Russo, Kyra Schon, & Russ Streiner; William F. Nolan; Ingrid Pitt; Linnea Quigley; Fred Olen Ray; John Saul; David Snell; Darce Stoker; Peter Straub; Whitley Strieber; Timothy Zahn; Afterword by The Amazing Kreskin.

Whether you're an author looking for career advice, a fan of classic films and authors, or looking for true stories of inspiration, this is the book for you.