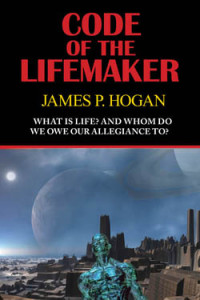 Durante el mes de abril estará disponible para su descarga en modalidad paga-lo-que-quieras el libro Code of the lifemaker de James P. Hogan.
Aquí os dejo la sinopsis:
Long ago, an alien "searcher" ship flew too close to a star gone nova. Though heavily damaged, the ship landed on one of Saturn's moons, Titan.

Attempting to fulfill its original function of seeding suitable planets for exploitation, the ship creates a bewildering society of self-replicating machines that gives rise to a bizarre ecosystem and culture with intelligent beings and organically grown houses.

The intelligent beings are known as Taloids and they have developed their own brand of religion around a mythical figure, a creator of machines, and hence, life.

When humans descend from the sky, the Taloids see them as those creators.

However, powerful financial and industrial interests are all set to exploit the moon and the Taloids to maximize Titan's vast production potential and the future for the Taloids looks grim.

But they find a champion from an unexpected source. Karl Zambendorf is a "psychic" who has wrangled a place aboard the human mission to Titan. And when all of man's forces are conspiring to ruthlessly exploit Titan and the Taloids, Zambendorf becomes their champion and in the process challenges not only the religious imperatives of the Taloids, but the core of our own beliefs as well.