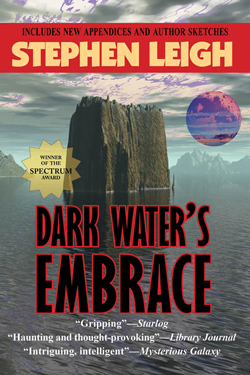 Durante el mes de marzo está disponible para su descarga gratuita el libro Dark water's embrace, de Stephen Leigh.
Aquí os pongo la sinopsis:
Often compared to Ursula K. Le Guin's ground-breaking The Left Hand of Darkness, Dark Water's Embrace is a fascinating look at issues of human (and alien) sexuality. Stephen Leigh creates a rich world with elaborate care and uses this alien backdrop to delve into issues of survival, sexuality and the meaning of life itself.

On the planet Mictlan, a small colony of stranded humans struggles to survive despite a diminishing birthrate and a high incidence of physical abnormalities. The cultural conflict engendered by the discovery of the mummified corpse of Mictlan's now extinct former inhabitants forces the human community to reshape its moral principles to accommodate a bold & troubling solution to their problems.