La Libertarian Futurist Society ha anunciado la novela ganadora de su premio este año.
Causes of Separation de Travis Corcoran
No conozco ni al autor ni la novela, así que he buscado algo de información al respecto. Esta es la portada: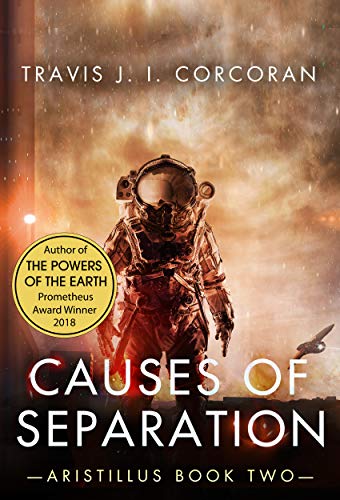 Esta es la sinopsis:
Earth in 2064 is politically corrupt and in economic decline. The Long Depression has dragged on for 56 years, and the Bureau of Sustainable Research is hard at work making sure that no new technologies disrupt the planned economy. Ten years ago a band of malcontents, dreamers, and libertarian radicals bolted privately-developed anti-gravity drives onto rusty sea-going cargo ships, loaded them to the gills with 20th-century tunnel-boring machines and earthmoving equipment, and set sail – for the Moon.

There, they built their retreat. A lunar underground border-town, fit to rival Ayn Rand's 'Galt's Gulch', with American capitalists, Mexican hydroponic farmers, and Vietnamese space-suit mechanics – this is the city of Aristillus.

There's a problem, though: the economic decline of Earth under a command-and-control economy is causing trouble for the political powers-that-be in Washington DC and elsewhere. To shore up their positions they need slap down the lunar expats and seize the gold they've been mining. The conflicts start small, but rapidly escalate.

There are zero-gravity gun fights in rusted ocean going ships flying through space, containers full of bulldozers hurtling through the vacuum, nuclear explosions, armies of tele-operated combat UAVs, guerrilla fighting in urban environments, and an astoundingly visual climax.

Causes of Separation is the second book in The Aristillus series – a pair of science fiction novels about anarchocapitalism, economics, open source software, corporate finance, social media, antigravity, lunar colonization, genetically modified dogs, strong AI…and really, really big guns
Mi traducción:
La Tierra en el año 2064 es políticamente corrupta y está en declive económico. La Gran Depresión dura desde hace 56 años, y el Bureau of Sustainable Research trabaja duro para asegurarse de que ninguna nueva tecnología irrumpe en la economía planificada del planeta. Hace diez años una banda de descontentos, soñadores y liberales radicales añadieron motores antigravedad desarrollados de forma privada a antiguas naves de carga, las llenaron hasta los topes de tuneladoras del siglo XX y equipamiento y pusieron rumbo a la Luna.

Allí construyeron su retiro. Una ciudad lunar subterránea, capaz de rivalizar con Galt's Gulch de Ayn Rand, con capitalistas americanos, granjeros hidropónicos mejicanos y mecánicos espaciales vietmanitas. Es Aristillus.

Sin embargo, hay un problema. El declive de la Tierra bajo un férreo control económico está creando problemas a los políticos de Washington y otros lugares. Para asegurar su posición deben aplastar a los colonos lunares y apropiarse del oro que han estado extrayendo. Los conflictos comienzan pequeños, pero escalan rápidamente.

Hay duelos a pistola en gravedad cero en naves oceánicas oxidadas volando a través del espacio, contenedores llenos de bulldozers a través del vacío, explosiones nucleares, ejércitos de unidades de combate operadas en remoto, guerra de guerrillas en entornos urbanos y un climax visual asombroso.

Causes of Separation es el segundo libro en la serie The Aristillus, un par de novelas de ciencia ficción sobre anarcocapitalismo, economía, software open source, financias corporativas, medios de comunicación, antigravedad, colonización lunar, perros modificados genéticamente, IA y armas realmente grandes.