El minimalismo y el recuerdo de la época de los 8 bits con Richard Yoo ha llegado a la portada de The Year's Best Science Fiction 2, editado por Jonathan Strahan, que publicará Saga Press en septiembre de este año.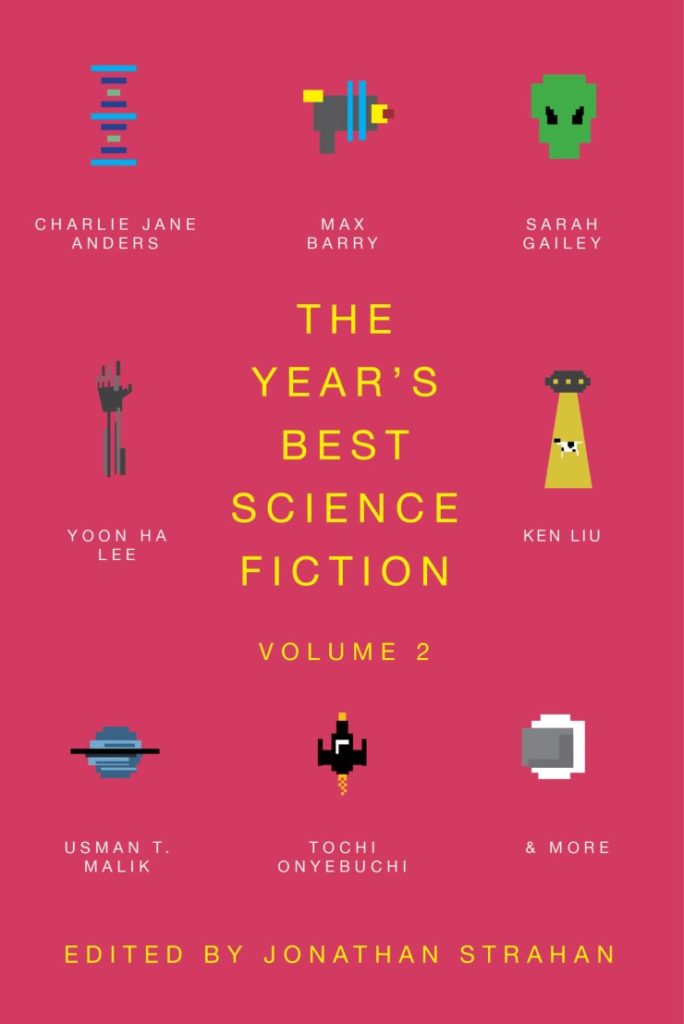 Aquí os traigo también los relatos que contendrá:
"The Bahrain Underground Bazaar" de Nadia Afifi
The Magazine of Fantasy and Science Fiction, 11/12/20
"If You Take My Meaning" de Charlie Jane Anders
Tor.com, 2/12/20.
"It Came From Cruden Farm" de Max Barry
Slate Future Tense, 2/29/20.
"The Final Performance of the Amazing Ralphie" de Pat Cadigan
Avatars Inc.
"An Important Failure" de Rebecca Campbell
Clarkesworld Magazine, 8/20
"Schrödinger's Catastrophe" de Gene Doucette
Lightspeed Magazine, 11/20
"Midstrathe Exploding" de Andy Dudak
Analog: Science Fiction and Fact, 3-4/20
"The Pill" de Meg Elison
Big Girl Plus… (PM Press)
"GO. NOW. FIX. " de Timons Esaias
Asimov's Science Fiction, 1-2/20
"Drones to Ploughshares" de Sarah Gailey
Motherboard Vice, 4/02/20
"The Transition of OSOOSI" de Ozzie M. Gartrell
Fiyah Lit Magazine of Black Speculative Fiction Issue #13
"Burn or The Episodic Life of Sam Wells as a Super" de A.T. Greenblatt
Uncanny Magazine, 5-6/20
"How Quini the Squid Misplaced His Klobučar" de Rich Larson
Tor.com, 1/15/20
"The Mermaid Astronaut" de Yoon Ha Lee
Beneath Ceaseless Skies 298
"50 Things Every AI Working with Humans Should Know" de Ken Liu
Uncanny Magazine, 11-12/20
"Beyond These Stars Other Tribulations of Love" de Usman T. Malik
Wired, 12/11/20
"Yellow and the Perception of Reality" de Maureen McHugh
Tor.com, 7/22/20
"A Mastery of German" de Marian Denise Moore
 Dominion: An Anthology of Speculative Fiction from Africa and the African Diaspora
"Father" de Ray Nayler
Asimov's Science Fiction, 7-8/20
"How to Pay Reparations: a Documentary" de Tochi Onyebuchi
 Slate Future Tense, 8/29/20
"Don't Mind Me" de Suzanne Palmer
Entanglements: Tomorrow's Lovers, Families, and Friends (MIT Press)
"A Guide for Working Breeds" de Vina Jie-Min Prasad
Made to Order: Robots and Revolution
"Polished Performance" de Alastair Reynolds
Made to Order: Robots and Revolution
"The Suicide of Our Troubles" de Karl Schroeder
Slate Future Tense, 11/28/20
"Airbody" de Sameem Siddiqui
Clarkesworld Magazine, 4/20
"Sparklybits" de Nick Wolven
 Entanglements: Tomorrow's Lovers, Families, and Friends (MIT Press)
"The Search for [Flight X]" de Neon Yang
Avatars Inc.