Hannover Square Press publicará en febrero del 2020 The Lost Book of Adana Moreau de Michael Zapata.
Esta es la portada, diseñada por John Gall: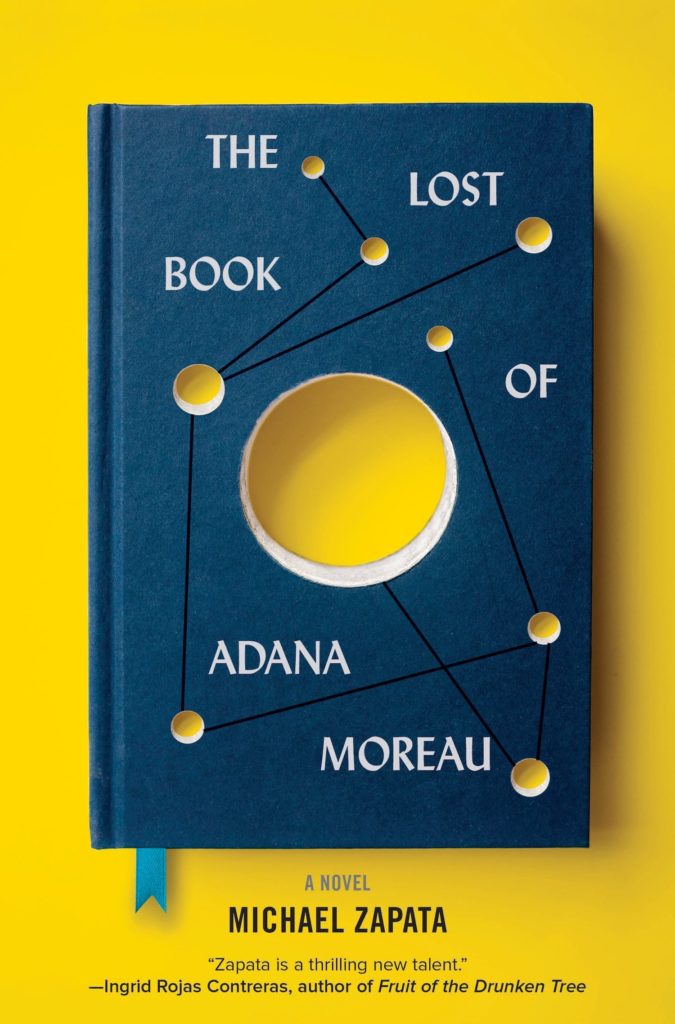 Esta es la sinopsis:
In 1929 in New Orleans, a Dominican immigrant named Adana Moreau writes a science fiction novel titled Lost City. It is a strange and beautiful novel, set in a near future where a sixteen-year-old Dominican girl, not all that unlike Adana herself, searches for a golden eternal city believed to exist somewhere on a parallel Earth. Lost City earns a modest but enthusiastic readership, and Adana begins a sequel. Then she falls gravely ill. Just before she dies, she and her son, Maxwell, destroy the only copy of the manuscript.

Decades later in Chicago, Saul Drower is cleaning out his dead grandfather's home when he discovers a mysterious package containing a manuscript titled A Model Earth, written by none other than Adana Moreau.

Who was Adana Moreau? How did Saul's grandfather, a Jewish immigrant born on a steamship to parents fleeing the aftershocks of the Russian Revolution, come across this unpublished, lost manuscript? Where is Adana Moreau's mysterious son, Maxwell, a theoretical physicist, and why did Saul's grandfather send him the manuscript as his final act in life? With the help of his friend Javier, Saul tracks down an address for Maxwell in New Orleans, which is caught at that moment in the grip of Hurricane Katrina. Unable to reach Maxwell, Saul and Javier head south through the heartland of America toward that storm-ravaged city in search of answers.
Y mi traducción:
En Nueva Orleans en 1929, una inmigrante dominicana llamada Adana Moreau escribe una novela de ciencia ficción titulada Lost City. Es una novela extraña y preciosa, situada en un futuro cercano en el que una chica dominicana de 16 años, no muy diferente de la propia Adana, busca una ciudad dorada eterna que se piensa que existe en una Tierra paralela. Lost City consigue un número de lectores modesto pero muy entusiastas y Adana escribe la secuela. Tras esto, cae gravemente enferma. Justo antes de su muerte, ella y su hijo Maxwell destruyen la única copia del manuscrito.

Décadas más tarde en Chicago, Saul Drower está limpiando la casa de su abuelo fallecido y descubre un misterioso paquete que contiene un manuscrito titulado A Model Earth, escrito nada más y nada menos que por Adana Moreau.

¿Quién era Adana Moreau? ¿Cómo consiguió el abuelo de Saúl, un judío inmigrante nacido en un barco de vapor mientras sus padres huían de la revolución rusa, este manuscripto perdido? ¿Dónde está el misterioso hijo de Adana, Maxwell el físico teórico y por qué le mandó el abuelo de Saúl el manuscripto como acto final de su vida? Con la ayuda de su amigo Javier, Saúl busca la dirección de Maxwell en Nueva orelans, justo cuando el huracán Katrina desata sus fuerzas. Incapaz de contactar con Maxwell, Saúl y Javier se dirigen hacia el corazón de América a través de una ciudad arrasada por las tormentas en busca de respuestas.